This new column highlights practical ways to resolve critical Medicare Secondary Payer compliance questions. Annie Davidson and other ExamWorks experts will answer common and topical MSP compliance questions. Annie's aim is to simplify complex issues that are encountered every day. We hope that you engage and profit from the forum. If you have a question that needs answers, feel free to Ask Annie by emailing her at Annie.Davidson@examworkscompliance.com.
Question: Annie, I have been told that a conditional payment demand is impossible to appeal once it is referred to the Department of Treasury for collection. Is this true? I have a case in which we were just notified of a demand that we never received, and for which we do not think we are responsible. What can we do?
Answer: It is entirely possible to appeal a conditional payment demand at the U.S. Treasury Department. When Medicare issues a demand for repayment of alleged conditional payments, the identified debtor has up to 120 days to file an appeal. If Medicare has not received a payment or an appeal within 150 days of the date of the demand, the case will be forwarded to the U.S. Treasury Department. The identified debtor may be subject to offset of the funds against taxes or other government funds. Additionally, if the identified debtor is an entity who contracts with the federal government, the ability to further contract with governmental agencies may be frozen.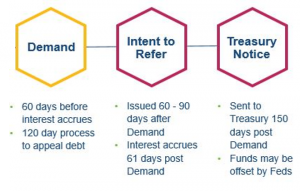 Of course, that all assumes you received a copy of the demand that Medicare issued. If, like our questioner, you have not received a demand and your only notice of the debt came from a Treasury Notice or (worse) by way of call from a private collection agency on behalf of the Treasury Department, you absolutely still have the right to file a Treasury Appeal. You may raise the lack of receipt of the demand as a due process issue and contest some or all of the debt. As with any appeal to a governmental agency, you need a proper release on file to act and must spell out the bases for the appeal. As you may have guessed, this is not a quick process. Once you submit the appeal, the U.S. Treasury Department will investigate and then formally send the case back to the recovery contractor for handling. Where the appeal is found partially or fully favorable, but an offset occurred or you issued payment under protest, you will then need to wait for the refund to issue. All told, this often takes many months.
ExamWorks Clinical Solutions routinely assists our clients in all manner of conditional payment research, appeal, and resolution, and we have a specific and robust Treasury Appeal program with a stellar track record of success. Should you find yourself with a Treasury Notice or subject to a Treasury offset, we welcome the opportunity to work with you closely on resolving the matter.
If you have a question or an idea for a future Ask Annie column, please email Annie at annie.davidson@examworkscompliace.com or call her at 651-262-9618.