On July 13th the Centers for Medicare & Medicaid Services (CMS) released previously announced enhancements to the Medicare Secondary Payment Recovery Portal (MSPRP). The MSPRP "web-based tool" is designed to assist in the resolution of liability insurance, no-fault insurance, and workers' compensation Medicare recovery cases. These enhancements reflect CMS' continued efforts to supply self-service options to the insurance community, as follows:
Letter Activity Tab update. CMS added a new "view and print" functionality for Conditional Payment correspondence on the MSPRP. Specifically, if you are logged into the MSPRP using Multi-Factor Authentication (MFA) and have the proper authorization, you may view and print PDFs of any outgoing Conditional Payment correspondence that's been previously sent. This enhancement is a major improvement. Until now, obtaining copies of prior correspondence often required a phone call as well as a delay to allow the letter to arrive through the mail. The enhancement allows authorized users to view and print any prior outgoing correspondence, even letters from several years ago that may have been misdirected. This will greatly improve both transparency and efficiency for all MSPRP users. One feature still missing from the Letter Activity tab is the ability to print previously filed disputes and appeals.
ICD Codes have been translated. Before the update, the MSPRP would only show the code and would have to research on your own. Now, the MSPRP shows an explanation of the Diagnosis Codes to better identify relatedness. This improves transparency and efficiency for users, greatly reducing time spent analyzing letters and demands. An example of the change may be found below: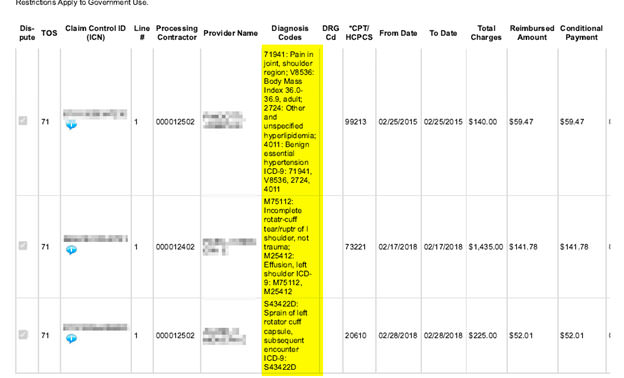 ORM Indicator and ORM Termination Date: The Case Information screen now shows Ongoing Responsibility for Medical (ORM) as well as the ORM Termination Date. If ORM exists, this field appears, showing a value of "Yes". If no ORM exists, this field does not appear. ORM Termination Date will show the date ORM ended, if ORM has been terminated or it will be blank if ORM has not terminated. ORM Termination indicates the end of a claims payer's self-declared "responsibility" to pay for related medical care. By providing this date, CMS acknowledges that it has received and applied the supplied date, thereby cutting off responsibility for medical care. Conditional payment disputes and appeals often hinge on the application of this information, so we applaud CMS for providing this information electronically.

Workers' compensation, no-fault and liability insurance entities now can view, print and download the same correspondence sent to the debtor assigned to the case, review diagnosis code explanations, and confirm ORM status. This useful update offers improved transparency and efficiency, particularly when prior information was not readily available.
ECS will continue to monitor the newswire for additional comments from CMS about electronic portal payments. Additional information on how to use this new functionality will be available in Section 14.1.1.4 of the July version of the MSPRP User Guide. The MSPRP User Manual can be found under the "Reference Material" menu option of the MSPRP application.