On December 11, 2020, the MARC Coalition succeeded in its efforts to have Congress enact the Provide Accurate Information Directly ("PAID") Act, filling a gaping hole in the MSP claims resolution process related to Medicare Advantage Organizations and Part D Plans (collectively "MAOs"). The new law, included as section 1301 of H.R. 8900 (116th Congress, Public Law No: 116-215), will require the Centers for Medicare & Medicaid Services ("CMS") to respond to insurer and self-insured "queries" by identifying Medicare Part C and Part D plans so that parties settling claims with Medicare beneficiaries can coordinate benefits and make appropriate repayments to Medicare. And for the first time, thanks to MARC's efforts, parties and insurers settling claims will have the opportunity, if they so choose, to resolve claims at the time of settlement.
Background
CMS over the years has created an extensive regulatory structure and electronic claims system to facilitate MSP repayments. Unfortunately, the Agency has failed to create the needed parallel structure to navigate MAO claims. Instead, starting in 2012, CMS chose to provide MAOs with Section 111 data, and insist that the MAOs pursue recoveries. Frustrating, and unlike the two way data system CMS maintains for MSP claims resolution involving Medicare Parts A and B, primary plans have no tools to even identify the right MAO for claims resolution, much less the ability to repay plans. And MAOs have historically failed in most instances to seek their own recoveries.
For years CMS never collected claims information on MAO medical payments (this is beginning to change, but the data that CMS is collecting is not being matched with the CMS MSP system). As a result, CMS today cannot inform a primary payer of whether a Medicare Advantage or Part D Plan has made a payment that might require reimbursement. And while CMS for years has been providing Section 111 data to the MAOs so they know where the settlements are, CMS has never shared with insurers and self-insured any information about the MAOs. That is about to change.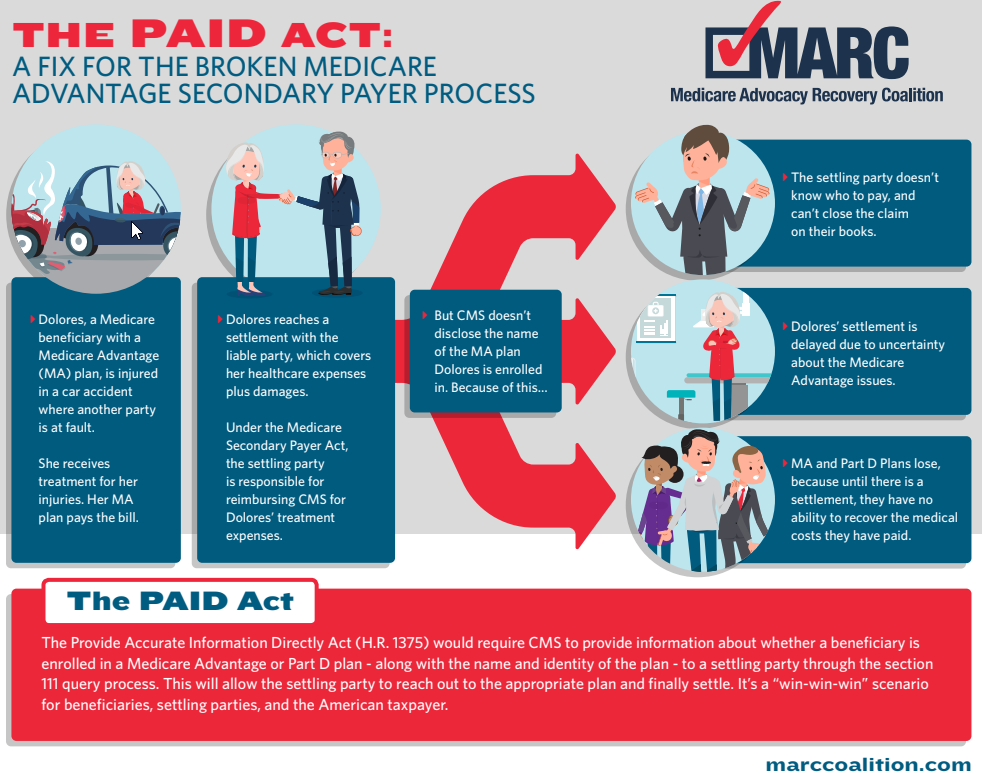 The Solution – the PAID Act
The PAID Act will now require CMS, in response to a "query" made by a primary payer, to disclose to the primary payer: (1) whether the claimant "is, or during the preceding 3-year period has been, entitled to benefits" under Medicare; and (2) when applicable, the "name and address of any Medicare Advantage plan under part C and any prescription drug plan under part D in which the claimant is enrolled or has been enrolled during" the preceding 3-year period. Hailed by Congress as "commonsense legislation," [i] the new law advocated for by MARC will have a major impact on Medicare, MAO Plans, the insurance industry and self-insureds across the country. For the first time, entities filing Section 111 reports to CMS will be able to identify MAOs that may be involved, and if the reporting entity chooses, reach out to those Plans to coordinate benefits and close files. Although nothing obligates primary plans to do so, the benefit of being able to settle claims with finality is attractive to many, and should stimulate increased claims resolution faster.
Also important is what the PAID Act does not do. It does not change MAO's obligations to screen claims before payment, and present for repayment those claims appropriately paid by MAOs if they want to be reimbursed. More specifically, MAOs remain responsible for ensuring that payment is not available, or is not reasonably expected to be available, from a primary payer before making a conditional payment. Also, where Medicare Advantage and Part D Plans have made legally appropriate medical payments, the burden remains on those MAOs to present demands for reimbursement to the parties to the settlements – the beneficiaries, the beneficiaries' attorneys, and insurers. As the legislative history makes explicit, nothing in the PAID Act creates an obligation on primary payers to directly contact Medicare Advantage and Part D Plans. Instead, as Senator Tim Scott clarified, they may do so "if they so choose."
Nor will the PAID Act increase MAO interest in repayment. MAOs already receive "Section 111" Reports from CMS and they will continue to receive those reports even after PAID Act passage. Plans have always had the ability to pursue recoveries, and they remain obligated to do so (and be denied payment from a beneficiary or insurer) before bringing suit for recovery in court. Given the frustration settling parties have encountered with the process, we expect many insurers and self-insureds to voluntarily coordinate benefits with MAOs to bring finality to the claims process.
Preparing for December 11, 2021
The PAID Act will likely change the dynamics of the claims-settling process, and primary payers will need to plan accordingly. Most immediate, the CMS query response file will change starting December 11. The MARC Coalition is working with CMS on this issue, and we expect more information from CMS in the coming months so that industry can prepare for the data changes.
Second, primary payers should consider creating internal rules on when and how they will reach out to MAOs to coordinate benefits. Third, MAOs will need to prepare to respond to primary payers repayment inquiries. MAOs have historically failed to present timely claims for reimbursement, and they will need to ensure they can respond to primary plan inquiries or risk waiving their right to recover.
In sum, the PAID Act holds much promise for all those participating in the MSP claims resolution process. The MARC Coalition and its members congratulate Congress on enacting the law, look forward to the implementing the law in partnership with CMS over the coming year, and to improving the MSP process for all involved for years to come.
---
[i] Statement of Representative Gus Bilirakis (FL), PAID Act, Congressional Record, H6993 (Dec. 8, 2020).